Maria's debut album "Her Night At Noon" was released on 7th Nov 2012 on DartBird music. The album contains a selection of her own songs and songs co- written with Swedish musical partner and multi-instrumentalist Bjorn Dahlberg.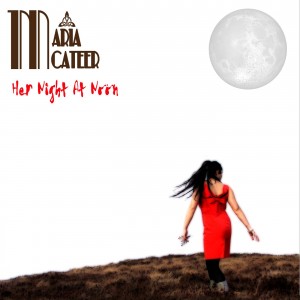 Half irish, half trinidadian singer/songwriter Maria McAteer was born in Kensington London and raised in Newcastle Upon Tyne. She says of her childhood:
"It was kind of iffy at times being the only brown girl in the village but I found solace in music and irish dance"
Maria's mixed heritage is clearly visible in her song-writing. Her sultry, melodic, jazz based compositions are partly inspired by her late father Al Timothy (trinidadian jazz saxophonist/composer who penned hits like "Kiss Me Honey Honey Kiss Me") but also possess a haunting, celtic melancholy true to her irish roots. Her unique vocals are heart-wrenchingly sincere, holding warmth and fragility as her stories of love, loss and longing are told and retold.
"Pure honesty, a beautiful singer" Liane Carroll (BBC Best Jazz Vocalist Award Winner UK)
"Darn pretty, tasteful and simply….. fantastic!" David Myhr (The Merrymakers. Sweden)
"Smooth and Jazzy, piano ballads full of sincere melodrama and Judy Garland-esq vocals" Ray Padgett (Cover Me NewYork USA)
"Hauntingly pretty song. Hearing these songs in a small venue under low lights would be incredible, yet thats almost how the studio versions sound" Christopher Levine (Eclectiblogs. Texas USA
"Sade is back in town but this time she's half irish" Rebecca Kenny (Actress, London)
Maria wrote her first song "The Quiet Girl" aged 8.
"I just used the black notes on the piano because I liked the sound of them better!"
"If I can sing one song that gives one person sanctuary or one song that gives one person a feeling that someone understands and they are not alone, then I have given a little back of what music has done for me…."
Debut single "BRIGHTON BOY" released April 18th 2012 on DartBird Music
"A quirky glance of Brighton life on a sunny day that's bound to make you smile"
(Jo Brooks-Latest 7 Magazine Brighton)